Throckmorton Air Show cancelled 'due to regulation changes', organisers say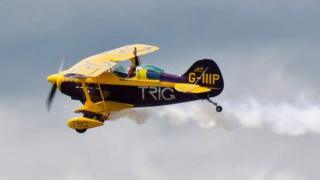 A charity air show has been cancelled due to the cost of complying with new regulations, its organiser has claimed.
Throckmorton Air Show has been held near Evesham, Worcestershire, every year since 2008.
Organiser Samantha Jones said new safety requirements for pilots and organisers imposed by the Civil Aviation Authority (CAA) meant it would not be "financially viable" to host.
The CAA said it had been working with organisers to help the show go ahead.
The show was due to take place on Sunday.
More on this story and others in Hereford and Worcester
Ms Jones said insurance costs had also doubled compared to last year, which, when combined with slower ticket sales, new CAA rules and further expenditure on a new traffic management system led to the cancellation.
She confirmed tickets would be refunded and plans for an event later in the year were being looked at.
"We are truly gutted and have put our heart and soul into organising this but sadly everything feels against us and we can't afford to take on the financial risks," she said.
A spokesman for the CAA said insurance costs were a matter for the organisers and their insurers, but defended its "comprehensive" review of safety procedures, which came in the wake of the Shoreham air disaster in August last year.
"Safety is always our first priority and we are committed to continuously enhancing the safety of civil aviation," they said.
"Although proportionate and small in many cases, we are phasing in the introduction of these charges to reduce the impact on the air display community and have stated that we would review any further requests for assistance from smaller and charitable air show organisers."