Worcester council agrees sky lantern ban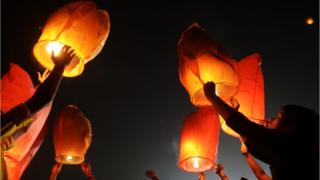 Sky lanterns and helium balloons can be no longer released from a council's land after it become the latest authority to ban them.
Worcester City Council agreed the ban at a meeting, despite critics branding the balloon plan as "utter nonsense".
The authority said it made the decision "in a bid to reduce the harmful effects they can have on wildlife and to avoid their potential risk as a fire hazard".
Anyone leaving remnants of balloons or lanterns could also face fines of £80.
Councils up and down the country have banned the use of lanterns, which have burnt and injured animals after falling to the ground.
The Chief Fire Officers' Association called for an "urgent review" of lanterns after one sparked a huge fire at a factory unit in Smethwick, West Midlands, in July 2013.
A lantern was also believed to have caused a blaze that destroyed some 100 caravans at a leisure park five months later.