Worcestershire Hospitals' backlog of 11,000 X-ray results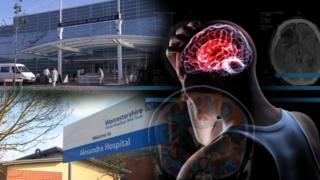 A backlog of 11,000 X-ray results were discovered at a hospital trust during an unannounced inspection.
Worcestershire Acute Hospitals NHS Trust (WAHT) failed to make reports of the X-rays, a health watchdog found.
This posed a potential risk to patients because it may have delayed treatment, the Birmingham Mail reported.
WAHT said the backlog was mainly routine X-rays and not GP requested X-rays, CT, MRI or ultrasound scans. A new process was now in place, it said.
Health watchdog, the Care Quality Commission (CQC) confirmed it inspected the radiology departments of the Alexandra Hospital in Redditch, Worcestershire Royal Hospital and Kidderminster Hospital on 27 July.
It said the inspections acted on "information that had been received" and "a report of our findings will be published in due course."
The trust was rated inadequate by the CQC in December.
---
Analysis: BBC Health Correspondent Michele Paduano
The BBC understands that a radiographer, Ken Hall, who has himself been censured for his conduct, contacted the Care Quality Commission, in June worried about turnaround times at the Worcestershire Acute Hospitals.
He had also seen a patient in the private sector and identified a potential cancer. The patient had been scanned by the hospital six months previously.
As a result, the Care Quality Commission contacted the trust about X-ray turnaround times on 13 June.
The Care Quality Commission received a response and turnaround times were being reviewed by the clinical specialist inspector who had further questions regarding the current situation and risk to patients in radiology.
That may have led to the unannounced inspection in July.
---
Andrew Short, interim chief medical officer at WAHT said it had given the CQC an action plan to clear the backlog of unreported X-rays by October 2016.
He said: "The backlog is composed of mainly routine X-rays requested by our hospital medical staff which are then made available to the referring clinician for review and action.
"Historically these were not reported by a radiologist and today we have put a new process in place to ensure X-rays that need the back-up of a radiology report get it in a timely way.
"There is no backlog of GP requested X-rays, CT, MRI or ultrasound scans. We have always, and will continue to, prioritise urgent X-rays, chest X-rays and GP requested X-rays. There is no backlog in these areas."