Hereford industrial estate evacuated after 'grenade' blast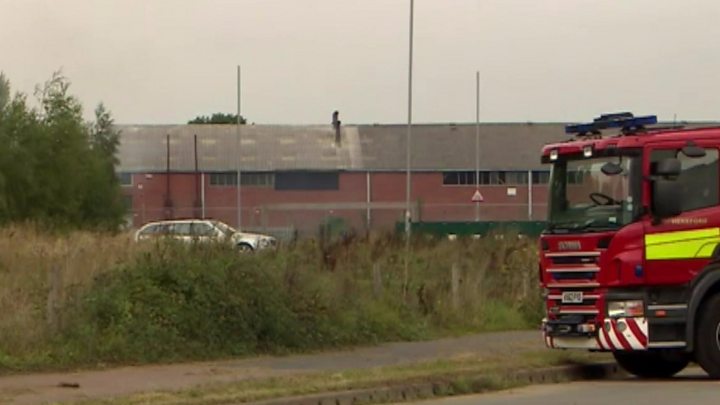 Controlled detonations were carried out after grenades were found by workers at an industrial estate.
Rotherwas Industrial Estate in Hereford was evacuated after a blast on Wednesday during excavation works.
West Mercia Police said "suspected phosphorus grenades" were discovered at the site. They were found close to a former World War Two munitions factory.
Several homes and businesses were evacuated and a 200m cordon, since removed, was put in place.
See more stories from Hereford and Worcester here
Police said there was a "small explosion" after a grenade was uncovered by workers excavating the site using machinery. No injuries were reported.
People were told to avoid the area while police and a bomb disposal team removed any further grenades.
A total of 24 grenades were found and detonated.
Police said the incident is not being treated as suspicious and the cordon was "a matter of precaution" and up to 10 houses and a number of businesses were evacuated.
The cordon was removed at 09:30 BST on Friday and residents and workers were able to return to the site.
Residents were advised to close all windows and doors, and to keep away from smoke from the grenades as the smoke can cause temporary respiratory problems and irritation to eyes and skin.
One resident, who wanted to be known only as Margaret, has lived in the area since the WW2 and decided not to leave her home on Wednesday night.
"If you lived down here in the war when I lived here, you wouldn't be afraid of that," she said.
Business owner Mike Thompson said that although "we shouldn't be surprised" grenades are appearing near the old factory, the cordon had been a "massive problem" for him.
"I can't get my workforce in," he said.
Roads were closed from Fir Tree Lane at the junction of The Straight Mile, Skylon View Road at the junction of Beech Lane, and a public footpath running from the north of the city to the estate.