Criminal charges brought over Hereford mystery vulnerable man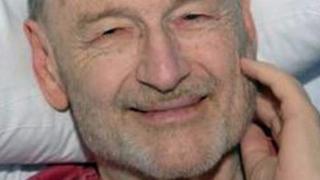 A man has been charged in connection with the case of a vulnerable mystery man who was found lost in Hereford in November 2015, talking with an American accent.
Roger Curry was discovered in a Hereford bus station car park and tests showed he had dementia.
Police said he could be in his 70s.
Simon Hayes, 52, of Henlade, Taunton, is charged with three counts of fraud and another of perverting the course of justice.
While in hospital in the UK in 2015, the elderly man, who had no identification nor knowledge of who he was, gave his name once only - Roger Curry.
To find out if Mr Curry was who he said he was, and where he came from, police trawled through CCTV, launched a press appeal, contacted the national crime agency, Interpol and the Canadian and US authorities, to no avail.
Remembered by neighbours
A BBC Panorama investigation in January 2017 then uncovered the mystery man was indeed named Roger Curry and that his home was in Los Angeles.
His home was found to be fire damaged and abandoned. Neighbours remembered him well, and were able to identify him through a yearbook photo dated from 1985.
Back in the UK, Mr Curry was cared for in a residential home for eight months before being flown back to the US in July 2016.
He has since been cared for in a residential home in the US and the Los Angeles authorities have taken control of his care.
Mr Hayes was arrested in April 2016.