Charles de Gaulle cadet mansion sold in Bewdley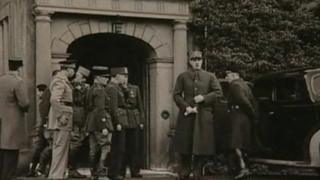 A 20-bedroom mansion used to train Free French soldiers during World War II has been sold for more than £800,000.
Free French leader Charles de Gaulle is believed to have regularly visited cadets and officers based at Ribbesford House in Bewdley, Worcestershire.
Merryn Howell, 76, whose family has owned the property for the past 71 years, said it had brought a "lifetime of fun, excitement and interest".
The demand of up-keeping the home made it the "right time" to sell, she said.
Midlands Live: Inspectors step-in to help hospital patient; New life for empty building
Estate agents Andrew Grant said the property, which had "an amazing heritage", was in need of complete renovation.
It was sold for £810,000 - more than £300,000 above the guide price of £500,000 - when it went under the hammer at the Crown and Sandys pub, Ombersley, on Tuesday.
Bewdley-born prime minister Stanley Baldwin and his cousin writer Rudyard Kipling had been among its famous visitors, the agents said.
Ms Howell and her brother Columb Howell have spent decades researching the site's 1,000-year history.
She said 211 French soldiers had stayed at the property and about a third of them were later killed in the war.
Ms Howell said the soldiers made impressive figures when they walked into Bewdley.
"Their uniform was marvellous coats which went right the way round and sometimes when they came back it was observed that there were not only boots underneath but also heels, high heels that went click, click, click rather than boom, boom, boom," she said.
She said their father, Wing Commander Alfred John Howell, bought the property in 1947 and its renovation became his "labour of love" following his RAF service.
The home was turned into accommodation for tenants and guests.
Ms Howell described its sale as "bittersweet", adding: "We have had lots of families here and there have been marvellous dos and wonderful parties."