Thousands visit Weeping Window poppies in Hereford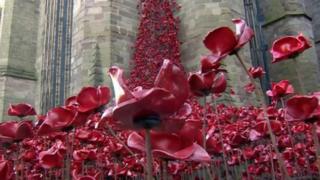 Up to 200,000 people visited the Weeping Window display of poppies at Hereford Cathedral.
Sunday marked the last day of the six-week display in which poppies were seen cascading down from the top of the building.
A service was held to mark the sculpture, first seen at the Tower of London and created to commemorate those who lost their lives in World War One
The service also marked the centenary of the RAF.
It ended with hundreds of paper poppies coming down from the cathedral roof - one for every Herefordshire man killed in the war.