Callum Cartlidge 'discharged with salts' before death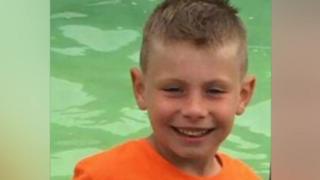 A boy with an undiagnosed life-threatening illness was discharged from hospital with re-hydration salts hours before his death, an inquest heard.
Callum Cartlidge, eight, died after a cardiac arrest on 3 March 2017 - less than 24 hours after leaving Worcestershire Royal Hospital.
Dr Ann Radcliffe told the inquest there was "a high chance" a blood test would have detected his illness.
Worcestershire Acute Hospitals NHS Trust has been investigating the case.
Callum, from Redditch, Worcestershire, had been suffering from Addisonian crisis, a life-threatening progressive condition of Addison's disease which is caused by damage to the adrenal glands, the inquest heard on Monday.
Registrar Dr Radcliffe told Worcestershire Coroner's Court she discharged Callum after diagnosing gastroenteritis. He was sent home from the hospital with Dioralyte.
She said: "Sadly, we know that had they [the tests] been done, there's a high chance we'd have picked up that he had an adrenal insufficiency.
"But the reality is, there was no indication clinically that that is what it was."
You may also be interested in
A trainee junior doctor previously told the hearing she had earlier written "consider bloods" on the boy's medical notes following his admission.
But assistant coroner David Reid was told no blood tests were done.
The inquest also heard how an experienced ward sister failed to properly fill out Callum's fluid balance chart, which was required under hospital policy for acutely-ill children.
Sister Natalya Moore told Mr Reid that "time constraints" meant she was unable to fill out the chart.
Callum, who was described as usually a fun and "cheeky chappie" was "lethargic and yellow" and regularly off school in the months before his death, the inquest has heard.
The inquest continues.