Jobs hope for former Humbrol factory site in Hull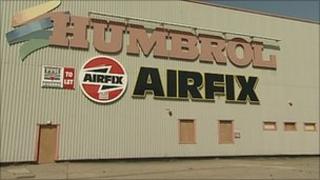 Hundreds of jobs could be created with the regeneration of one of Hull's derelict industrial sites.
East Yorkshire firm ispace wants to build a business park on the former Humbrol factory site on Hedon Road.
If the company's planning application is approved, work will start on the new Marfleet Environmental Technology Park in December.
Ispace said it believed the scheme would create 300 jobs, which would "be of benefit to the local economy".
Paul Dixon, director of ispace, said several large businesses had already shown an interest in moving in.
'Key location'
He said: "We have got a large international company wanting to bring a manufacturing and distribution unit there and we are at the very advanced stages of agreeing a long lease with them.
"It's a key location near the dock and it's one of the last sites along Hedon Road to be developed.
"It's good for the city and there's a great labour pool in Hull for companies to tap into."
Humbrol, the former parent company of model-maker Airfix, went into administration in August 2006.
The plans include the refurbishment of the former Humbrol factory and the construction of 10 new industrial units on the 3.8 hectare (9.4 acre) site.