Union protest in Hull over Connaught job cuts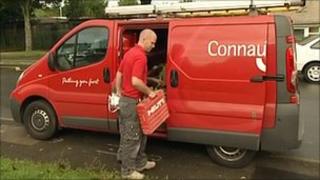 A demonstration has been held in Hull in support of former Connaught workers who face losing their jobs.
The company, which was contracted by Hull City Council to repair and maintain council houses, collapsed earlier this month.
The union Unison said more than 100 employees were now "in limbo" as they had not been made redundant, but did not yet know who they were employed by.
Unison said 300 people attended a rally on Saturday to highlight the issue.
The union is calling on the council and administrator KPMG to act quickly to save threatened jobs.
Mike Adamson, Hull City Unison branch secretary, said: "Former Connaught workers have only ever given excellent service to the public of Hull, whether they were working for Connaught or before privatisation when they worked directly for the council.
"It is wrong that a failure in the private sector now looks likely to see them made redundant."