Hull flood barrier work completed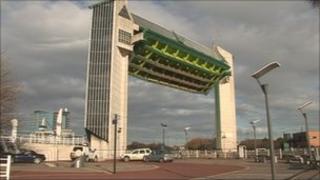 A £10m refurbishment of Hull's flood barrier has officially come to an end.
Repairs to the 30m (98ft) structure, which protects about 17,000 properties from flooding, took four years to plan and two years to complete.
Environment Agency staff and contractors completed the work during a 40-day period when there was less chance of tidal surges.
The barrier has helped prevent tidal surges from funnelling water into the River Hull for three decades.
Project manager Andrew Newton said: "This overhaul is the largest that has been tackled in its lifetime, and the task was made more challenging by the fact that much of the work had to be done 30m up in the air.
"We could only carry out the work during the summer when there was less likelihood of tidal surges and the new parts had to be winched up and passed through the windows."
Due to the tight time scales, staff assembled the replacement drive mechanism, which lifts and lowers the gate, in the factory beforehand.
They also analysed tides and identified 40 consecutive days this year and a similar period last year, which showed a one in 24 million chance of a tidal surge occurring.
The Hull Barrier is a 212 tonne (215,000 kg), 98 ft (30m) wide gate which is supported between two towers that house the operating machinery.
The barrier is closed about 12 times a year and has protected Hull from the effects of more than 30 high tidal surges since it opened in April 1980.