Ten deaths in East Yorkshire swine flu outbreak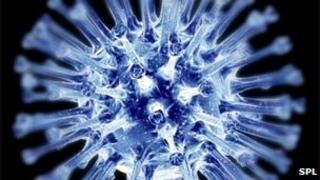 The number of people with swine flu who have died in East Yorkshire so far this winter has risen to 10.
Hull and East Yorkshire Hospitals NHS Trust said nine of the 10 people had other underlying health problems.
One had no previous health issues and swine flu was said to have been a contributory factor in their death.
Five of those who died were men and five were women. Health Protection Agency (HPA) data reveals 62 people died with flu in the UK since December.
This brings the total to 112 since October. Most of those who died had swine flu.
Operations cancelled
The East Yorkshire figures are for deaths at Hull Royal Infirmary and Castle Hill Hospital in Cottingham. They do not include hospitals in Goole and Beverley.
More than 200 people have so far been admitted to the hospitals with suspected swine flu since 1 December, with 84 cases confirmed.
The outbreak has meant the trust has been forced to cancel some major operations to keep intensive care beds free.
In December, 168 operations were postponed and up to Tuesday, 50 operations had been postponed in January.
The trust carries out about 7,100 planned operations each month, which includes major surgery.