Ex-Connaught workers protest over contract terms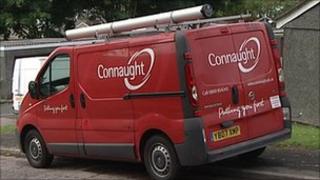 A demo has taken place outside Hull council over plans which unions fear could leave workers out of pocket.
Almost 130 people lost their jobs after Connaught, a firm contracted by the council to repair and maintain houses, went into administration last year.
The workers have been transferred to two other companies that have contracts with the authority but unions fear terms and conditions will be changed.
The council said it was down to the firms to clarify the issue.
After Connaught's collapse the contract was transferred by Hull council to Lovell Partnerships in September.
The council's cabinet then reversed that decision in December and decided to split the contract between Kingston Works Ltd (KWL) and Kier.
Up until Wednesday, workers had continued to be paid by Lovell but now unions fear staff have been left abandoned while the contract transfer is completed.
Hull City Council said it had advised the companies that "they must take their own independent advice" around the issue of terms and conditions.
A statement added: "It is in everybody's best interests to resolve this as quickly as possible and we have asked KWL and Kier to supply us with their revised plans."
Kier and KWL issued the same statement, stating: "Kier and KWL are in detailed dialogue with Hull City Council and will be liaising with trade unions in order to bring about a speedy and expedient resolution for everyone concerned."