Family tribute to Tetney Lock body parts murder victim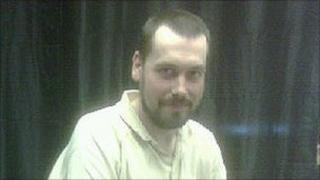 The father of a man whose body parts were found in a canal has said his son's murderers have destroyed his and his family's lives.
A human leg was discovered by a passer-by at Tetney Lock last Thursday and further remains were found by police on Friday and Sunday.
After post-mortem tests, police named the victim as Adam Vincent, 33, formerly of Alexandra Road, Grimsby.
Father Keith Vincent said: "Somebody out there must have a conscience."
Five men, aged 19, 21, 31, 34 and 43, have been arrested in the Grimsby area in connection with his death.
Detectives said Mr Vincent was a drug user and were investigating whether his death was linked to this.
Mr Vincent, 59, said his son was very protective of his family and "never wanted to trouble us with his problems".
'My baby'
He added he had a talent for art and was a hard worker.
Mr Vincent, 59, said: "The last time I saw Adam he was trying to turn his life around, he made me a promise that he was doing all he could to get things sorted.
"I want to make an appeal to anyone who may have information about what happened to Adam to come forward.
"These people have destroyed mine and Adam's family's life."
His mother Sheila Baxter, 62, said: "He was such a gentle person and I think he had two sides to him, one with his family and one with his friends."
She added: "He was my baby and always will be."
Senior investigating officer Mark Oliver said the last reported sighting of Mr Vincent was on Friday 11 February in the Scartho area of Grimsby.
Anyone who has seen him since then or who saw a suspicious vehicle in the Tetney area any time from the early hours of last Thursday is urged to contact Humberside Police.