Amanda Thomson Stands Up for Comic Relief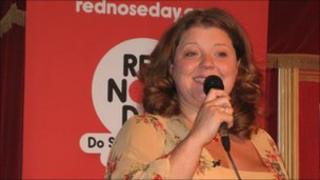 Terrifying, exhilarating and "completely out of my comfort zone" is how Amanda would describe her latest Comic Relief challenge.
For the 2011 Red Nose Day appeal Amanda has been raising money, and hopefully a few laughs, by trying her hand at stand up comedy.
After weeks of training with local comedian Andy Train and the Comic Relief team, Amanda is ready.
The big day is Friday 11 March, lunchtime in the Yorkshireman Pub in Hull.
Amanda stands nervously backstage, watching Andy and fellow comedian Danny Deegan play to a crowded room. Then there's applause, a drum roll and it's now or never.
Once it's all over, the relief is visible as Amanda leaves the stage to thunderous applause and cheers. How did she do?
The comedian and Amanda's mentor, Andy Train, is overjoyed: "I feel like a proud parent at the moment because she listened to everything I said. That was a really polished performance."
And as for Amanda, she's just glad it's all over: "It's brilliant, people have been really supportive - it's been excellent."
Thank you to all those who supported Amanda and helped raise over £300 for Red Nose Day. If you missed Amanda, but would like to make a donation to Comic Relief, there is still time to text to donate.
Text and donate
To show your support for Amanda Thomson on BBC Radio Humberside Text "HUMBER" to 70011.
Texts cost £1 plus your standard network message charge.
£1 per text goes to Comic Relief.
You must be 16 or over and please ask the bill payers permission.
Read full TERMS AND CONDITIONS.