Grimsby fish market set for £1.2m upgrade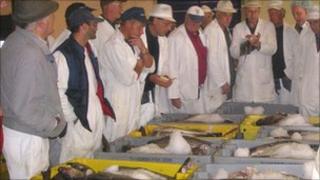 Grimsby fish market is to get a £1.2m upgrade after European grant funding for the improvements was approved.
The European Fisheries Fund is to pay £605,000 with the other half coming from Grimsby Fish Dock Enterprises.
The fish market building, which opened in 1996 at a cost of £15m, will get new temperature control systems, air-lock doors, cladding and a new ceiling.
Chief executive Martyn Boyers said: "This work is long overdue and will safeguard existing jobs in the port."
The work would allow the market to gain British Retail Consortium accreditation, protecting its fish supply business with large retail customers like the supermarkets.
Work on the revamp is due to start in late May or early June and should be completed by spring 2012.
The market will continue to operate as normal throughout the work.
Mr Boyers said the fish market was also due to host a delegation of Norwegian fishing industry representatives who are exploring the possibility of placing more fish through Grimsby, further boosting the port's economy.