Nature tourism in East Yorkshire 'key to success'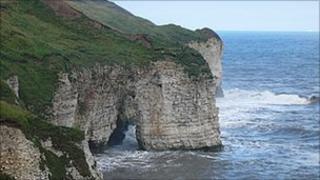 Wildlife and nature tourism could boost East Yorkshire's economy by millions of pounds, a charity says.
The Yorkshire Wildlife Trust said research showed visitors coming to see the countryside and local wildlife spent about £9.5m a year.
This could rise to £28.5m if businesses such as guest houses, restaurants and fisheries had a strong marketing strategy, the trust said.
Bridlington, Flamborough and Bempton cliffs were "big attractions".
Martin Batt, the trust's Nature Tourism Manager, said Bridlington, the Flamborough headland and surrounding areas were the key to a tourism boost.
'Food producers'
Mr Batt said: "There has already been investment by the trust and the Royal Society for the Protection of Birds (RSPB), which hopes to make its Bempton reserve a national seabird centre, and by Yorkshire Water, but the project needs people in the private sector to get involved.
"That means high-quality serviced accommodation, local food producers and fisheries and others who can take part in joint promotions.
"In return, it will be publicised on a new website and maps and guides for the whole area, which will also incorporate links to the new cycle way network and Wolds walks."
Mr Batt said the area from Filey down to Spurn point taking in most of the Wolds could benefit.
The development of a Yorkshire Wildlife Trust Living Sea Centre at Flamborough South landing on the site of the former Boathouse Cafe - which was destroyed by fire in July 2009 - is part of a nature tourism project.
Work on the learning and interpretation centre, which is going through the planning process, could start in the autumn.
It will focus on the headlands coastline and what lies beneath the sea.