Ten South Yorkshire and Humber building sites shut down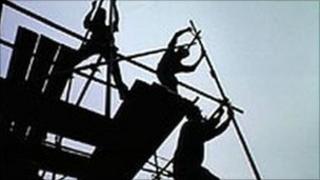 Ten construction sites across South Yorkshire and the Humber were so dangerous that workers' lives were being put at risk, inspectors found.
Health and Safety Executive experts checked 52 sites and served prohibition notices to firms in Hull, Sheffield, Rotherham and Grimsby.
Prohibition notices are served when there is immediate danger and work must stop immediately.
The inspection comes after four workers' deaths in the area in 2009-10.
Accident figures for that period show 100 accidents, including two deaths in Hull and East Riding, 250 accidents with two deaths in South Yorkshire and 58 accidents in North and Northeast Lincolnshire.
Inspectors said most of the notices related to working at height, which was how the two deaths in Hull occurred.
Inspector Hazel Dobb said: "This is the fifth year of the inspection initiative and it is disappointing to find construction sites taking the same unnecessary risks with their workers' lives.
"Companies have a responsibility to protect their workers, to help rid construction of its reputation as being one of Britain's most dangerous industries."