Council funding cuts hit Hull's Dove House hospice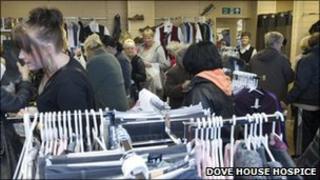 Dove House Hospice in Hull has warned its services could be affected after the council cut funding for recycling and waste disposal.
Hull City Council announced that it would start charging the hospice for removing and recycling unwanted items donated by the public.
Dove House estimated this would cost it an extra £50,000 to £70,000 a year.
The cancellation of the free service for charities is part of wide-ranging cost savings the council is making.
Andrea Beer, director of income development at the hospice, said: "This will have a significant impact upon the charity, which on the whole is funded by the generosity of local people."
'Unique service'
Currently the hospice receives funding from the local NHS primary care trust, but still needs to raise about £3.4m from donations to meet its annual running costs of £5m.
The hospice provides daycare and inpatient units, as well as offering support to patients and families across Hull and East Riding.
It already expects to have an overall budget deficit of £500,000 this year.
Liberal Democrat-run Hull City Council said it had to make £50m in savings this year and could lose around 14,000 jobs, so cuts to non-essential services had to be made.
According to a spokesperson, it was until recently the only council in the north of England subsidising waste collection and recycling for charities. Moving in line with other councils' policies, they said, was in the public interest.
However, director of clinical services at Dove House Anna Wolkowski said it was "difficult to see" how these cuts would benefit the public.
"The service [offered by Dove House] is unique, cannot be accessed anywhere else locally, and meets the needs of some of the most deprived areas of the community," she said.