Hull's toads sculpture trail brings £1m to city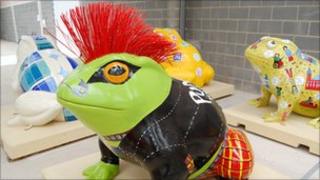 A controversial arts event involving 40 fibre glass toads generated over £1m of value for Hull, according to a report.
The sculptures were erected across the city last year to mark the 25th anniversary of the death of poet Philip Larkin.
An assessment of the scheme, commissioned by the project's organisers, said that 120,000 visitors came to Hull to follow the trail.
The tourists generated £500,000 of extra income for the city's retailers.
It is calculated that coverage of the city in the national and international media was worth another £500,000.
The trail cost £150,000 to set up, and was largely paid for by commercial sponsors.
After the 10-week event the sculptures were auctioned, raising £50,000 for various local charities.
The scheme attracted controversy when it was first announced. In March 2010 Hull City Council withdrew its funding after negative publicity.
Commenting at the time on the decision to cut the £200,000 grant, council leader Carl Minns said: "I don't think it's something the council should be using council taxpayers' money to support. It is embarrassing for the council."
Elaine Burke, an arts consultant who wrote the report, said the scheme could be used as a model for future collaborations between the public and private sector.
She said: "A range of partners were involved in this, from large-scale organisations to much smaller organisations, to individual people, individual artists, community organisations.
"I think there is a way to do this so everybody benefits and I think that is the message from this."