Hull's forgotten shipping family's magnificent mansion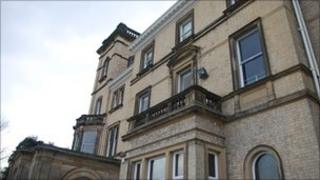 As part of the BBC School Report day students Lucy, Mollie, Olivia and Jess have researched the hidden history of Hull shipping magnates; the Wilsons
They reveal how the family's palatial home became a school, which is now attended by two of the pupils.
Here is their report.
The Wilson family, who used to own the largest shipping company in the world, lived in the mansion of Tranby Croft on the outskirts of Hull.
Arthur Wilson had Tranby Croft built in the 1870s for his growing family.
After WWII the old house was converted into a girl's school. Later it merged with Hull Grammar School to form Hull Collegiate School.
Despite these changes, the school still retains many of its original features.
These include stylish alcoves, elaborately decorated ceilings and liquid gold painted statues.
The house has some unique features, such as a pets' cemetery and a tower from which Arthur Wilson used to watch his ships sailing in the Humber Estuary.
Their fortune allowed them to live a life of luxury and lead a very active social life. The head of the family, Arthur Wilson, supported the Holderness Hunt and held lavish parties.
The house was also home to a famous Victorian royal scandal.
In 1890 the Prince of Wales, later King Edward VII, was caught up in an argument about cheating at cards while attending a weekend party at Tranby Croft.
The scandal was the talk of society and ended up in a famous libel case, in which the prince was forced to give evidence.
The room where the game took place is still intact and is used as a music classroom.
Rob Haworth is the headmaster of Hull Collegiate School. He said the environment has a positive effect on the pupils:
"It's fantastic and I think it does just calm them down. People have respect for beauty and they have respect for things they feel are really nice."