Region's first Hindu temple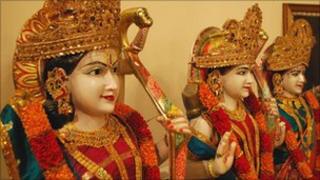 For over 20 years, Hindus in East Yorkshire, North and North-East Lincolnshire had to gather at church halls and community centres for religious ceremonies but now a dedicated building in the city is home to the region's first temple.
The Hindu Temple and Cultural Centre on Hull's Park Street was formerly the Central Masonic Hall.
In February 2010, the Hull and East Riding Hindu Cultural Association bought the grand looking building with voluntary donations from members and transformed it into a temple, with the original façade and many of its features still in tact.
"Our temple is the only one east of Leeds, before this our members used to go to Bradford or Birmingham to attend functions," explained Dr Tapan Mahapatra, the chairman of Hull and East Riding Hindu Cultural Association.
"I've noticed that within the last year we now have a community feeling and a family feeling. There is now a focal point where we all meet on a regular basis whether it's a religious activity or for a social event.
"This temple has really enhanced our community spirit," added Dr Mahapatra.
Apart from Hindu rituals - known as 'poojas' - and devotional singing or 'bhajans', the temple is also a base for the community's non-religious activities such as music and dance performances, weekly yoga workshops and social gatherings.
Since acquiring the temple, the Association will be staging their first indoor Mela, which celebrates Indian culture. The festival takes place on Saturday 2 April at Hull City Hall.