Streaming Lights play Fomfest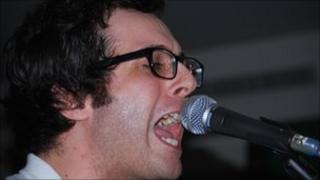 When Streaming Lights heard they'd been chosen to play the inaugural Fomfest in Cheshire, so began a frenzy of social networking to let the world know the news.
The Hull-based three piece only formed last year but have secured the slot alongside The Cribs and Badly Drawn Boy.
The festival, in mid-May, also boasts Black Lips and 90s Indie heavyweights The Charlatans on the bill.
Streaming Lights can't wait.
Gigging loads
Lead singer Steve Minns attributes their rapid rise to the festival big-time to hard work and lots of gigs. He said: "Our former band The Revoffs wrote and recorded some great songs but we just weren't tight enough live. People saw us and were disappointed after hearing the demos.
"With Streaming Lights we're getting loads of gigs out of town and it's made us really tight very quickly."
Rehearsals for the band can be tricky with bass player Ryan Gibbins currently studying at Sunderland University. But the gigs are coming so thick and fast, band practices aren't really necessary at the moment.
Streaming Lights met at William Gee school in Hull with Steve and Ryan quickly finding common ground in musical tastes.
"Chris and I just finished school and we were desperate to form a band," remembers Ryan.
"Our musical influences were many. Muse, Arctic Monkeys come to mind. Our sound is now quite riff-driven but also quite bluesy.
"Chris' drumming is also very dancey which brings something new into the mix and I'm into Funk - James Brown, the Chilli Peppers, that sort of thing.
"And I like Delta Blues," chips in Steve.
First gig at The Ringside
The band got good feedback from their very first gig nine months ago at The Ringside in Hull. Drummer Chris said: "We weren't at all scared, we were very confident from the start. We're very comfortable with what we play and our personalities, we hope, come out in the music."
Streaming Lights have already played a live session on BBC Introducing on Radio Humberside and presenter Alan Raw isn't surprised the band have secured the festival slot. He said: "They're a tight band with a confident swagger and some good songs. They'll go down really well I think."
Fomfest is one of many new festivals springing up around the UK, tapping into a desire from many festival fans to experience something smaller and more intimate than what the big guns of Glastonbury, Leeds and Reading can offer.
For the band, it'll be their first taste of playing at a big festival and they can't wait. So who'll be first out of the tent in the morning?
"Definitely me," says Steve, "because it's unlikely I'll have been to bed!"
And if they could re-visit one festival performance from the past and re-live it in all its glory?
"Definitely Nirvana, Reading Festival 1992," the band chorus as one.
Streaming Lights play Fomfest on the weekend of 20th, 21st and 22nd May at Capesthorne Hall in Cheshire.