Images in 3D used in Hull balance project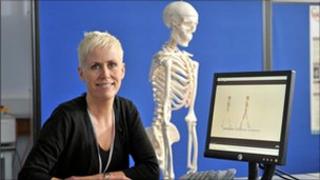 Technology used to help sportsmen is being used to monitor elderly people's balance, in a research project in Hull.
Motion tracking technology and pressure pads will be used to create a 3D image of volunteers walking up stairs.
It is hoped the image will highlight weak muscle groups which can then be strengthened though specific exercises.
The project will involve the university departments for Sport and Engineering as well as Osteoporosis Research in East Yorkshire (Osprey).
'Treatment changes'
Dr Catherine Dobson from the University's Medical and Biological Research Group said: "We want to see just how far we can push computer modelling and see if it's possible to target specific muscles rather than whole areas.
"This is a really exciting project which could really change the way we look at people who have suffered falls and the way we treat them."
Physical exercises such as tai chi and aerobics are currently suggested to patients to improve balance and mobility but these are often too intense for the patient to carry out regularly.
The research project funded by Osprey is expected to last up to a year.