Merchants fret falling fish supplies at Grimsby market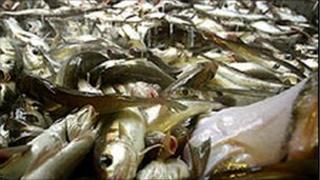 Fish merchants in the UK have raised concerns about dwindling supplies at one of their main markets.
A large proportion of the fish bought in the UK is purchased at Grimsby Fish Market, but about 75% of the market's produce comes from Iceland.
With Iceland experiencing tough financial times, it is processing more of its fish in its own centres to maximise value.
Andy Fyche, a fish merchant, said he now "can't rely" on the market.
He said: "We have to get our supplies in from the Faroe Islands direct ourselves because we can't rely on the Grimsby market."
'See the quality'
Although merchants are able to buy directly from the Faroe Islands and other sources such as Norway, that often means they have to buy blind.
Simon Goodwin, a fish merchant in Grimsby said: "The advantage of the fish market is that I can see what I'm buying, see the quality.
"That's the way I want to run my business."
Martyn Boyers, chief executive of Grimsby Fish Market, said he understood that "because of the economy in Iceland, they have to put their own interests first."
He told the BBC earlier this month that the market was due to host a delegation of Norwegian fishing industry representatives who are exploring the possibility of placing more fish through Grimsby.