David Whitfield's widow backs statue campaign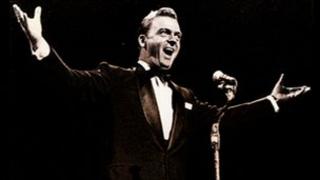 The widow of a Hull singing star has backed a campaign to have her late husband's achievements recognised with a statue in the city.
Calls for a statue to honour David Whitfield were turned down by planners in January.
The city council turned down an application by fans for a tribute in Hull's Kingston Square, saying it clashed with a conservation area.
Now his widow Sheila is backing efforts for a statue near Hull New Theatre.
Sheila Whitfield said: "It's the best place possible [for the statue] to be and I'm really, really upset that the council say it can't be there. I don't understand that at all.
"There are still a lot of people who do remember him and I think it is important [to have the statue].
"He was from Hull and he really put Hull on the map, in a way."
David Whitfield became a singing sensation in the 1950s, selling millions of records worldwide.
He died in 1980 from a brain haemorrhage.