Nairobi school supported by the village of Swanland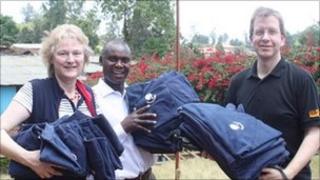 A school in one of the poorest parts of Kenya is being supported by a local community.
Swanland School is located in the Kawangware slum district of Nairobi.
There are over 200 pupils aged between three and 24. Many of the students are orphans and live on the school premises full time.
Since 2002, the community of Swanland, in East Yorkshire, have been supporting the school by collectively donating £2500 a month for its upkeep.
One of the main expenses is providing food. Some of the basic food staples have gone up nearly six times in price since the political violence that engulfed Kenya two years ago.
As well as money, the village also donates goods such as school uniforms and, with the help of Hull City AFC, have sent over football kits and other sports equipment.
Pastor Hudson Kuyanda is the headmaster at the school. He sent this update on the school's recent progress.
Pastor Hudson's Diary Update
Greetings from Swanland School Nairobi Kenya. How are you doing over there?
I thank God for the visit of Richard, Shirley, John, Carole and Brian. Thank you so much for everything and may God richly bless you and your team.
The kids are also excited now they can wash their hands at the new tap that we installed when you were here, thank God for your dedicated team.
National Exams
Since you left I have been very busy attending official meetings with the Ministry of Education and other government officials.
We have had a final briefing about the national examination and we have been given guide lines to use, so that we can avoid any irregularities during the examination exercise.
Already I have the names of police officers, supervisor, and invigilators who will guard the compound during examination time.
We have also been given the police station where we shall be picking our examination materials.
Help for another school
I have had two meetings with a neighbouring school and we have accepted to host them during the national exams this year, their children will be coming to do science practical at our laboratory.
The school is actually for needy children and we have not charged them much money, but asked them to pay some money for lab maintenance.
The school approached us when one of the Swanland students went home with a jumper and socks that you gave out during the prize giving day.
Link with Swanland UK
I am often asked to tell folks about our school. What a joy! My face lights up as I share the stories of our school community in Nairobi and our namesake, Swanland village, East Yorkshire.
What an amazing village! We are fortunate our school bears the name of a village that value education so highly.
We adore Swanland village that continues to support our school family in so many tangible ways.
This is my tenth year since you started supporting us, after Ruth visited us, and I still get excited to walk the class rooms and watch the quality lessons, level of student engagement and focus on learning.