Hull paint firm Crown in 200th birthday jobs hope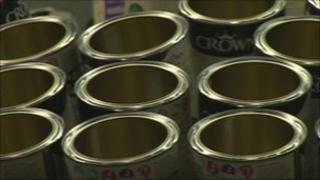 Managers at Crown Paints hope to create more work at the firm's Hull factory.
The company, which is celebrating its 200th anniversary, employs 200 people making 44 million litres of paint a year in the east of the city.
It was bought out by management from a Dutch corporation in 2008, with backing from a Yorkshire private equity firm.
Crown lost 300 jobs after the takeover but has now returned to profit. Chief Executive Brian Davidson said he hoped to bring extra work to the city.
"I find myself running a business with 200 years of heritage, which I think is absolutely phenomenal.
"There are very few businesses that can equal that," he said.
Mr Davidson said there had been a rise in sales of 22% last year and the company planned to increase its operations round the world.
Marble statue
"We've got a cracking facility. It's under utilised, and part of my plans would be to see if we can fill it more, make it busy and hopefully make it more profitable," he said.
The company was founded in 1811 as Blundell and Spence, with a factory on the corner of Spring Bank and Beverley Road.
The site is now occupied by the Hull Daily Mail building and is still named Blundell's Corner.
Henry Blundell was a city councillor for many years and was lord mayor of Hull in 1858.
He is commemorated with a marble statue in the corridors of the city's Guildhall.