Humberside fire service issues warning over wheat bags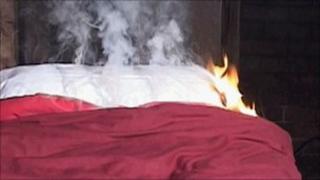 A warning has been issued over overheating wheat bags following a severe kitchen fire in East Yorkshire.
Humberside Fire and Rescue Service said it was issuing the warning following a kitchen fire in Brough which severely damaged the property.
The fire service said it started in a microwave due to the bag being heated for too long.
The hot water bottle alternatives are cushions or soft toys filled with wheat which are heated in microwaves.
'Devastating effects'
Humberside Fire Service said that across the UK, fires caused by wheat bags, had resulted in three deaths and many other people had been injured.
Pete Baron, from the fire service said: "It may be difficult for people to believe that a product designed to offer comfort and therapy could pose a danger.
"However, I cannot stress enough the importance of following the manufacturer's instructions, if wheat bags are not used properly it can have devastating effects."
Mr Baron said overheated bags could smoulder for several hours before catching alight.
He added that homemade wheat bags posed an additional threat because it would not be known how long to heat the bag for, and adding aromatherapy oils could also act as a fuel.