Interview with Bridlington band Edge of 13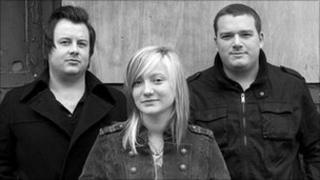 The Bridlington based trio, Edge of 13, have seen a number of personnel changes over the last few years.
Only one of the original line-up remains since the band formed in 2007.
With support slots for American acts such as Hammer No More the Fingers, the band hopes that stability will bring success.
Kris MacLeod started the band with some friends and started gigging locally, doing mostly covers.
Current bass player Nick Asquith attended many of the band's concerts, describing himself as "a bit of a groupie".
When the original drummer left, forcing the existing bassist onto the drums, Nick saw his chance to jump in and help the band out with a short notice gig.
Once Nick joined, the band did not stay static for long. They went from a quartet to a trio when the lead guitarist left. They had by now found their niche, having left covers behind to embrace indie rock.
When the band lost their second drummer, they found a natural replacement in Nick's cousin Josie.
Nick said: "I went to see her at school performing drums and I said, 'if we ever need a drummer, you are coming into the band'. She thought I was making fun of her."
Josie realised her older cousin was not just teasing her when she got a message asking her to join the band shortly after.
Nepotism certainly did not mean an easy entry into the band. Josie had to get her game up to scratch quickly with 10 songs to learn in time for gigs at Hull, Bridlington Spa and a Help for Heroes benefit, soon after her arrival.
The band, who are confident that this is their final line up, have started from scratch with new songs and class this Edge of 13 as a separate band to all that came before.
It is clear that the band are close. Having two long term members plus a family member inevitably helps, but they also write all tracks as a threesome, with the chaps laying down the lyrics and Josie punching out her own brand of rhythm.
Whatever they are doing seems to have worked because Edge of 13 say they now have the confidence in themselves to not only gig locally, but further afield. Something they had not really done with previous members.
It certainly looks like a busy summer having not only snagged themselves a slot at the Friends of Mine festival, but there are numerous gigs coming including a London tour in the pipeline and high on Beatles fan Nick's agenda, a return to Liverpool musical hotspot The Cavern.