Hull's streets take centre stage in special performance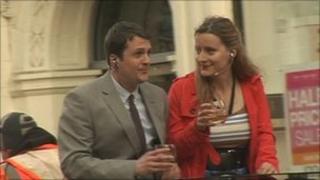 A specially-written play is being performed on the streets of Hull.
Mapping the City starts at Hull's Paragon railway station and then members of the audience follow actors to various sites across the city.
Three authors wrote the piece and based much of the performance on local characters and locations in the city.
The play has been funded as part of the cultural activities leading up to the 2012 Olympic and Paralympic Games in London.
Louisa Clein, one of the actors, said that Hull was perfect for outdoor performances.
"We've been able to use all the docks, the harbour, the pier and also all the wonderful old buildings in the city," she said.
As well as on the streets, scenes in the play take place in taxis, factories and on the back of a tricycle.
The audience is given wireless headphones and the actors wear miniature microphones.
Martin Miller, who plays a factory owner in the city's Fruit Market, said the style of the actors' performance was different from a traditional stage play.
"It's kind of like a bit more acting in a TV part," he said.
"Because we've got microphones and headsets, so we don't really have to project as you would normally in theatre.
"It's a bit more TV-style acting, but it is still theatre."