Archbishop of York marks Drypool church upgrade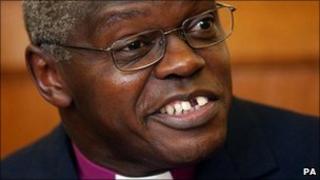 The Archbishop of York is to lead a special service to mark the end of an £836,000 refurbishment of a parish church in east Hull.
Dr John Sentamu will celebrate the completion of the five-year project to transform St John's Church, Drypool, on Sunday evening.
The building's roof has been repaired and meeting rooms and a cafe added to enable its use as a community centre.
It now hosts a youth club, mums and toddlers group and adult learning.
'Serving the people'
Dr Sentamu said: "Churches are at their very best when they are hospitable to all the people around them and serving their communities and infecting them with God's goodness.
"As Christians, we are commanded to love our neighbour, and the people of St John are loving and serving the people of Drypool with these new facilities."
The church's vicar, the Reverend Christopher Grundy, said: "The new developments will benefit the whole community.
"The events on offer will reduce social isolation, increase confidence, help people to move towards employment and improve health."