Nairobi school supported by the village of Swanland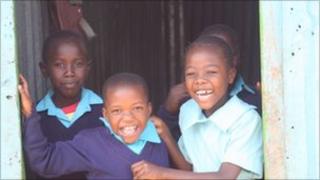 A school in one of the poorest parts of Kenya is being supported by a local community.
Swanland School is located in the Kawangware slum district of Nairobi.
There are over 200 pupils aged between three and 24. Many of the students are orphans and live on the school premises full time.
Since 2002, the community of Swanland, in East Yorkshire, has been supporting the school by collectively donating £2500 a month for its upkeep.
One of the main expenses is providing food. Some of the basic food staples have gone up nearly six times in price since the political violence that engulfed Kenya two years ago.
As well as money, the village also donates goods such as school uniforms and, with the help of Hull City AFC, has sent over football kits and other sports equipment.
Pastor Hudson Kuyanda is the headmaster at the school. He sent this update on the school' s recent progress.
Pastor Hudson's Kenyan Diary
Greetings from Swanland School Nairobi. Please accept my heartfelt thanks for your continued support to our school.
I am excited to hear about the new charity you have set up to help our school in Nairobi. Our school activities are a huge success, due to your help. We had a successful opening after Easter and already children have taken their opening exams and teachers are now busy marking.
Toilets and classroom repairs
Thank you once more for helping us provide our children with a more healthy and hygienic place to learn in. The school environment is changing every day and so conducive for learning.
Four classroom floors have been concreted and it looks good, a big improvement for both teachers and students.
The rebuilding of the toilets is going on and in a few weeks we will be making the sides and later roof. A total of six toilets are being erected and built: three for the girls, two for the boys, one for the teachers.
We are supposed to have finished but unfortunately the wall collapsed and everything was destroyed. We had to start afresh and dig another hole. Once we have finished erecting them we will have complied with the government requirements.
Bingley Grammar School visit
Easter Monday was a historical day for our school when we hosted three teachers from the UK.
They did a wonderful work at our school. We had Jamil, the team leader, who taught languages, Matthew history and drama, Ellen geography and arts. We all enjoyed working with them.
Our kids can now speak French which was taught over three days. They also exchanged some ideas as teachers and everything went well. They all did fantastic work and all the children and staff here are still talking about them.
Weather
We are having long rain and everything is green and muddy. Thank you so much for accepting to pay our handy man who is now busy planting some grass so that we cannot experience so much mud in future.
Food
Thank you so much for helping us feed the school. Prices of food and fuel have gone up and life is becoming more difficult. A 90kg bag of beans which used to be 9,000 Kenya shillings is now 12,000 Kenya shillings and with the number of the children we are feeding it is becoming more difficult.
In the big shops like Nakumatt and Uchumi you can get everything, but it is too expensive for us to buy because it is imported. We buy local produce like vegetables, potatoes and Kenyan rice. Only local products are reasonable. Fish is cheap and really delicious but we cannot afford to buy it for school.
Teachers
I want to take this opportunity to say thank you to SEAT for sending the money on time and our teachers are happy and working hard.
Thank you to everyone involved in making my work easier. Thank you for the roles you have played in helping Swanland School Nairobi Kenya to be where it is now. Thank you so much for everything.
God bless you all.
Yours in His Service
Pastor Hudson M Kuyanda,