East Yorkshire school designed to resist flood damage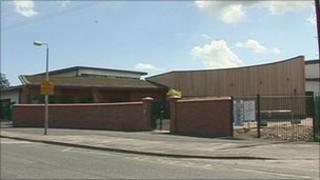 An East Yorkshire school hit by the floods of June 2007 has been rebuilt with anti-flood features.
Inmans Primary School in Hedon was extensively damaged when water inundated every room.
The £6.9m new facility has been built on a 90cm raised platform next to the existing school.
The building incorporates underground tanks to store flood water and has been built with a grass roof that retains 25% of rainfall.
After the flooding the students and staff were temporarily moved to other schools in the area. The damaged building was refurbished and the school reopened.
The old school will now be demolished and the site redeveloped as playing fields.
Head teacher Sally Morgan said she hoped it would erase memories of the flooding.
"When we returned to the site and had heavy downpours, it wasn't only the teachers who were anxious, but we had an awful lot of children being quite anxious about that situation and fearing they would be flooded again," she said.
As well as the anti-flood measures the school is designed to be environmentally friendly and incorporates other features such as a Mongolian yurt tent and an outdoor fire pit.
One of the students, year six pupil Elliott, said: "I like the classrooms. They're a lot bigger and the roofs are a lot higher, so they don't get as stuffy."