Hull opera singer Sarah Rhodes to make home city debut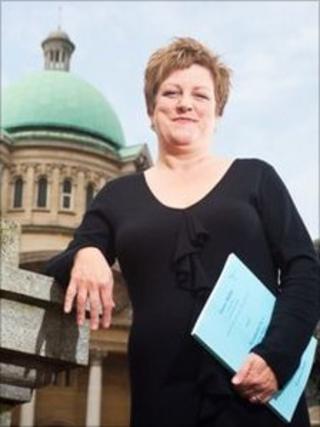 An opera singer who has spent over 20 years performing across Europe is to sing in her home city for the first time.
Hull-born soprano Sarah Rhodes has sung in European venues from London's Royal Albert Hall to Frankfurt's Alte Oper and Bilbao's Palacio Euskalduna.
But Ms Rhodes is yet to perform at the Hull City Hall.
This weekend she will be singing with the Hull Philharmonic Orchestra to mark the centenary of Gustav Mahler's death.
She said: "I'm really looking forward to it. I've always wanted to sing at the Hull City Hall but it just never happened.
"So it's been a long time in the waiting and I'm really excited about it."
Born into a musical family, Ms Rhodes' mother taught singing and her father was a piano teacher.
'In the womb'
She grew up listening to her parents' collection of Joan Sutherland records and would often sit outside the music room eavesdropping on a class.
"From quite a young age I had a feeling for music. In fact, I think it goes even further back than that when my mum was pregnant with me.
"She took her LRAM [Licentiate of the Royal Academy of Music], which is a big diploma, when she was seven months' pregnant with me so it was probably in the womb that I suppose I started to think about singing."
The former Malet Lambert pupil started her operatic career with the Welsh National Opera in 1984 after graduating from the Guildhall School of Music and Drama in London.
Pavarotti recording
Since then she has sung for the Scottish Opera, English National Opera, Opera Holland Park and spent 20 years touring the continent performing in France, Spain, Germany, the Czech Republic and the Republic of Ireland.
She cites a recording with opera great Pavarotti among her highlights.
"When I was a very young singer I had the experience of recording an opera with Pavarotti, Joan Sutherland and Montserrat Caballe, which for a young singer not long out of college was just awe-inspiring. I only had a small part to play in it but it was quite exciting."
Ms Rhodes eventually decided it was time to come home and in 2001 turned her attention to nurturing future stars.
"I really wanted to have a normal life so I thought I'd like to take a back seat from the operatic world."
Kimberley Raw, 19, is one of a number of students who views Ms Rhodes as an inspirational teacher.
The teenager will be heading to the Royal Northern College of Music in Manchester to be taught by the soprano's former teacher, Barbara Robotham, in September.
"I probably wouldn't have been going to [a] music conservatoire if it hadn't been for that nudge from Sarah. She gave me the confidence to believe I can do it.
"She's an absolute inspiration."
As her students prepare to embark on their opera careers, Ms Rhodes will be stepping out onto the operatic stage once again to show them how it is done.