East Yorkshire Dr Who fan builds replica Dalek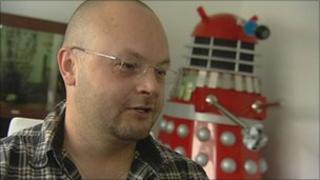 A man from East Yorkshire has built a fully working replica of a Dalek, with a base of a mobility scooter.
Doctor Who enthusiast Paul Davis, 39, spent three months building the 5ft 6in (1.7m) alien.
He worked full-time on the project during a break from his role in the Merchant Navy.
The red structure is moulded from fibre glass. Mr Davis got the design from a Doctor Who fan site on the internet.
It comes complete with gripping claw and a water-firing gun.
The Dalek is driven from inside and has 10 pre-recorded phrases, including the famous "Exterminate!"
Mr Davis said he was inspired to build it after watching a Doctor Who film.
He said "I was watching the Peter Cushing movie at the time and I thought 'I wonder if you could build one of those'."
His mother, Val Davis, said she was not surprised at her son's latest hobby.
"I wasn't really shocked because he's always had crazy ideas and I thought it's just another one of his crazy ideas," she said.