East Yorkshire school calls for speed limit after crash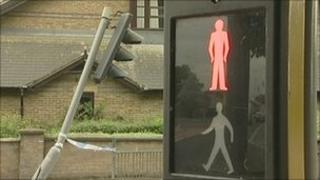 A traffic accident outside a school has led to calls for a reduction in the speed limit.
A lorry left the road and mounted a kerb at Newport Primary School, near Brough, coming to a stop outside the school gates.
No one was injured in the accident on Tuesday afternoon, although two traffic lights were destroyed.
Head teacher Wendy Elliott called for improved safety measures on the busy road.
She said: "We were just fortunate that it didn't happen an hour later or it would have been an absolute catastrophe.
"A whole family could have been wiped out."
She said: "We would like the speed limit reduced to 20 mph as it is around many, many schools around East Riding, and for some traffic calming measures put in to make this a safe place for children to cross."
The current speed limit outside the school is 30mph. Less than 100 metres from the school gates the limit is 40mph.
The East Riding of Yorkshire Council said a reduction in the speed limit had been considered but the amount of traffic meant mean speed bumps would have to be installed to enforce the limit, with no guarantee of reducing casualties.