Hull nursery cuts plan sparks parents' campaign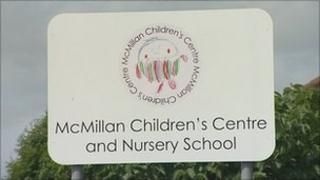 Parents have started a petition to support a north Hull nursery affected by council cuts.
Some classes at the McMillan Nursery on the city's Orchard Park estate face closure after funding was withdrawn.
Parents received letters this week from Hull City Council saying that staff had been made redundant and that day-care sessions for children under two years old would end within weeks.
The council said it was "a result of the reductions in grant funding".
The centre's sessions for children up to two years old relied on funding from the government's Sure Start scheme, which was reduced in last year's Budget.
In response to the government's reduction of its grants from £39m to £15m, Hull City Council cut the local Sure Start budget by 55%, from £9.9m to £4.4m.
'Parents consulted'
One of the campaigners behind the petition, Abigail Flavell, said the centre was "a lifeline for a poor community".
She said that she hoped that an alternative to closure could be found.
"I'm not angry. We all understand that there need to be cuts and I understand that there needs to be money found from certain places, and perhaps they have been given no other opportunity.
"But, I would like to know why. I'd like to ask the councillors why it is and if there could be any way there could be alternative funding found from somewhere else."
The nursery was rated as outstanding in a recent Ofsted assessment report.
Jane Mcmanus said she had moved her two-year-old grandson, Ashton, from another centre due to the quality of the staff at McMillan.
She said "I think it's important for the children. It builds relationships for little children, it's part of their routine.
"They thrive in the ethos of the nursery."
In a statement, Hull City Council said:"As a result of the reductions in grant funding and the difficult savings that the council has to make, there is a significantly reduced budget for children's centres this year.
"Because of this, McMillan's Children's Centre and Nursery School have made the decision to stop providing day care in its current form, from 10 June.
"The centre is exploring different options for providing a day-care service for some children from the main nursery building, for which it is seeking permission from Ofsted.
"Parents are also being consulted about what services they want."