Quaker group celebrate 50 years with new quiet garden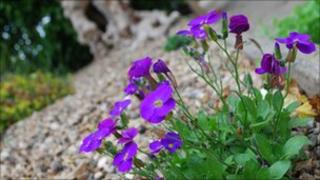 A public garden to encourage meditation is being constructed by a Quaker group in Beverley to celebrate its 50th anniversary.
The garden has been inspired by the national Quiet Garden Movement where people are invited to rest, reflect and meditate in the open space.
Quaker Phil Entwistle said: "I think people are looking for a space in their lives to get away from it all."
The garden has cost £4,000 to create and is being funded by local donors.
Mr Entwistle, who is leading the project, said: "Life is very noisy and hectic for most of us so I think it's very important for our mental health and spiritual development that we have opportunities just to stop and look at things and be aware of our surroundings.
"This is our little bit to encourage people to do that."
'New members'
The garden, which is being constructed next to the group's meeting house on Quaker Lane and is expected to open in August, will contain a number of fruit trees, shrubs, colourful plants and wild flowers with a secluded area for meditation.
Quakers have been meeting and worshipping in Beverley since the 1600s when Quaker George Fox opened the first meeting house.
Membership has fluctuated in the last two centuries forcing the doors to close in the 1850s.
The current Friends Meeting House opened in November 1961 and has 100 members.
Mr Entwistle said: "In the 60s there were about 25,000 members of the Society of Friends in Britain and that's gone down very gradually to 18,000," he said.
"But we are finding in Beverley that we're getting quite a few new members and especially younger people as well."