East Yorkshire flying festival takes to the sky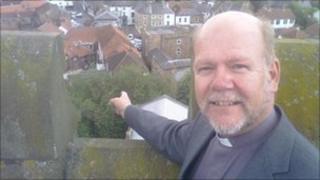 Pocklington's seventh annual Flying Man Festival is taking place this weekend.
The event remembers Thomas Pelling, a travelling showman who fell to his death from a church tower whilst performing a tightrope act in 1733.
The weekend features music and dance performances from local schools, an art exhibition, as well as balloon rides and an air display.
All the money raised goes to the upkeep of the town's All Saints' Church, where Mr Pelling met his death.
Teddy bears
The vicar of the church, the Reverend Geoffrey Hollingsworth, said the festival was an important fundraiser.
"The money that's raised this weekend is to ensure that we continue having a church in Pocklington.
"The church in Pocklington costs approximately just short of £2,000 every week, which is an enormous amount of money for us to raise. Last year's festival raised nearly £8,000."
Chris Ramsden, one of the organisers of the event said that there was a special event for children to commemorate Thomas Pelling's unfortunate demise.
She said: "The children are invited to bring their teddy bears or soft toys. They pay a small charge and we hoist the teddy bears up in a basket to the top of the church tower, harness them up and we fly them safely down across the church yard to the other side."