Hull buskers aim to beat business boardroom boredom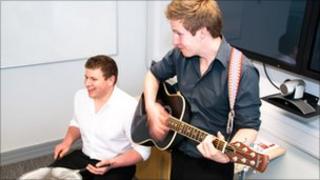 A Hull busking duo are writing and performing songs for local businesses.
Rob Stead and Stephen Marsden, who perform as the The Gargle Blasters, were spotted busking in the street by an employee of the city's World Trade Centre.
They were commissioned to perform instant songs to liven up seminars and presentations.
Guitarist and vocalist Marsden said they were inspired after attending boring business meetings.
He said: "After being there for a bit and seeing business presentations and seminars and things, we just sleep through them.
"There's a lot of information but it's not being put across in the right way.
"Now, if you can engage an audience through song, magic, comedy, language - things that we can provide - then it has many benefits."
The pair are students at the University of Hull's drama department.
As well as the corporate work they also write their own songs and perform at venues across the region.