Hessle Town Council first in region to fund extra PCSO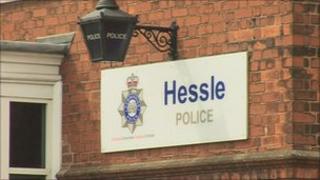 Humberside Police Authority is encouraging town councils to fund their own community policing officers.
Currently Hessle is the only town council in the region to fund a Police Community Support Officer (PCSO) from its budget.
The money guarantees the town an extra officer to work alongside four others who are funded directly by the police.
The police authority said the initiative was "not in response to budget cuts".
Hessle Town Council has been funding the extra PCSO since 2006. The scheme costs £28,000 per year, which is 20% of the town's annual budget. Humberside Police pays additional costs required to employ the PCSO, such as tax and shift allowances.
The vice-chairman of Hessle Town Council, Phil Davison, said: "For 10 pence a week we think it's good value for money. It's about policing on the streets and the PCSOs are out and about on the streets and that's what people want to see. We look forward to continuing that."
More patrols
The additional PCSO is responsible for tackling anti-social behaviour, monitoring the council's CCTV, running weekly public surgeries and attending council meetings.
One of the officers stationed in Hessle, PCSO Austin Petch, said the extra funding allowed more patrols.
He said: "We've got more coverage seven days a week, between eight [in the morning] and 11 o'clock [at night]. It makes a big impact on us working in Hessle and being able to deliver the services to members of the public."
The decision to pay the extra funding is reviewed every year in consultation with the local community.
One Hessle resident said she was in favour of the expenditure, adding: "It makes you feel that much safer. They keep an eye on youth drinking and things like that."
Councillor David Rudd, who is a Humberside Police Authority member, said he hoped the initiative could be taken up elsewhere.
"I would certainly hope that other parish and town councils will adopt a similar scheme and put some money in the budgets," he said.
"It's proved very successful with community policing and getting to know the local people, the local issues and helping to solve them."