East Yorkshire woodland suffers at hands of vandals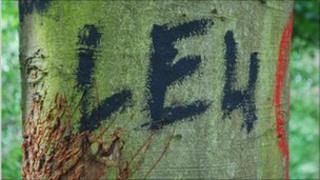 Woodland dating back to the 13th Century has been damaged by vandals.
Nut Wood and Wauldby Scrogs near Cottingham, East Yorkshire has seen mature trees cut down, fires lit and rubbish dumped.
The land is owned by the charity the Woodland Trust who have appealed for the vandalism to stop and have asked visitors to report any incidents to the police.
Site manager Mike Feather said the damage could affect wildlife.
"In a place like Nut Wood where we have deadwood on the ground, that's also quite valuable as a wildlife resource, all the little insects and things in it," he said.
"Fires are the last thing we want to happen. The deadwood is a valuable part of the woodland eco system."
Left rubbish
Of particular concern for the Woodland Trust is the targeting of mature trees. Some trees aged about 40-years-old and measuring up to 40ft (12m) in height have been chopped down.
In addition to the vandalism, the 34 acre (14 hectare) site has seen an increase in the amount of rubbish left lying around. The charity has had to employ a contractor to remove the waste.
Mr Feather hopes the attacks will stop. "There is no need for this sort of damage in the woodland," he said.
"By all means come and enjoy the woodland. But they are actually destroying the one thing they hopefully come here to enjoy."