Hull girls' football centre cut by FA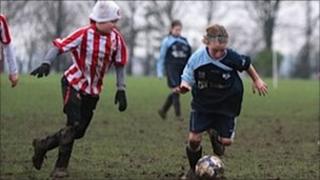 The Football Association has announced the closure of its girls' centre of excellence based in Hull.
The FA said the centre would lose its funding as part of a national restructuring of the women's game.
The centre, based at the KC Stadium, provides football training and support for girls up to the age of 16.
The announcement has caused anger among parents and players, who now face journeys to the surviving facilities in either Leeds or York.
Dawn O'Neill, the parent representative at the centre, said her daughter Millie "burst into tears last night and said, 'I'll never play for England, because I'll never be spotted'.
"She is not the only child who feels like that."
The FA expressed sympathy for the players and staff affected but said the decision had been made "following a robust 18-month consultation across all levels of the game".
It said the aim was to "enable England's elite women to compete on the world stage".
Nationally the FA is reducing the number of centres of excellence from 50 to 30.
The centre run by Hull College has been in operation since 2004, and provides training for 58 youngsters.
In a statement, the college said it was exploring other sources of income to try and keep the centre operating without FA funding.