East Cowick power cut off after metal thefts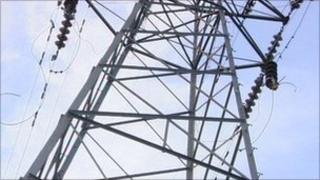 More than 200 properties have been left without power in an East Yorkshire village after metal thieves brought down power lines.
The culprits struck at East Cowick near Goole in the early hours of Friday, leaving 238 homes without electricity.
They also left a site at Rawcliffe in a dangerous state after cutting down poles carrying 11,000-volt cables.
Engineers from CE Electric are carrying out repairs and said they hoped to restore power supplies by Friday night.
'Daily basis'
The thieves at East Cowick brought down three sections of overhead line and stole metal conductors containing copper.
However, it is believed they may have been disturbed because a vehicle was left at the scene.
Paul Norton, head of health and safety for CE Electric UK, said: "We have to deal with incidents of copper theft on a daily basis.
"The mindless actions of these thieves and their complete lack of regard for the consequences of their actions only highlights the extreme lengths these thieves are willing to go to. "