New Scunthorpe band Cell:Adore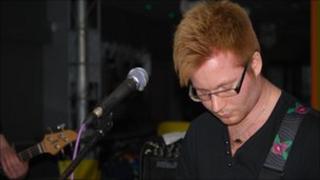 When Scunthorpe-based musician Chris Johnson began putting his album together he played more or less all the instruments himself.
But, as thoughts of performing live began to take shape, he knew that recruiting a full band would be necessary to achieve the sound he wanted.
The band, Cell:Adore is now up and running.
It features a who's who of the North Lincolnshire music scene.
Recording the album
Chris Johnson played in bands as a 17-year-old and continued as a musician through his time at Reading University. Returning to Scunthorpe after graduation he found he had rather too much time on his hands.
"I found it difficult to find a job at first," he recalled, "but I suppose that gave me a bit of time to really start working on my music so I look back on it as a good time."
Eventually, the idea of recording the album began to take shape.
"I used my friend Matt Crawford's studio and he was a huge influence and help to me. He ran his own studio, Null Moon in Scunthorpe for three years and two of those were spent working on my project. I couldn't have done it without him."
The recording took a year to complete with Chris playing most of the instruments along with contributions from Matt. Chris describes the end product, an album called "Burn Indigo" as a "labour of love" but is delighted with the result.
Recruiting the band
Getting a band together was Chris' next step and Dave Bacon was really pleased to be approached. A vocalist and guitarist, Dave had been in various Scunthorpe bands.
"I'd heard about Chris' album on the band grapevine", he said, "I was really glad to contribute some vocals towards the end of the recording. We then began to play together, became friends and it seemed a natural thing for me to join the band."
The rest of the line-up was made up of a who's who of the Scunthorpe music scene with Dave Thorpe on drums, Eddie Baxter playing bass and Wayne Goodchild doing the samples.
"Our first practice was shaky," recalled Dave "Cell:Adore's style is very different from what I'd been used to playing but it then all clicked into place."
Both Chris and Dave lament the lack of live venues in their home town willing to give a chance to bands playing original music.
"The Lincoln Imp was great for a while and we're hoping it will pick up again," said Dave."The Brumby Hotel has also started live music and a nightclub, The Light puts on live music as well. It would be great to attract bigger bands to the town and the likes of us could then support them. We keep hoping!"
Cell:Adore's album "Burn Indigo" is available from the band's website www.cellxadore.co.uk