Scunthorpe Pods leisure complex nears opening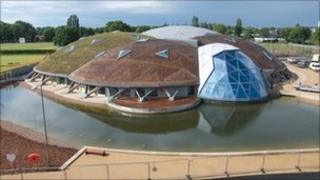 A new £21m sport and leisure complex in Lincolnshire has moved one step closer to opening.
Contractors of the The Pods complex in Scunthorpe have handed the keys over to the council with the building due to open in early July.
North Lincolnshire Council said the design of the building made it the first of its kind in the country.
The centre, near Ashby Road, is made up of five pods and has been designed to blend into the surrounding landscape.
One of the domes will house a gym with the two largest domes housing a pool and spectator area and sports hall.
Two exercise studios, a sauna, spa bath, steam room, creche and cafe are also included.
The building has been designed with environmentally-friendly features including a bio-mass boiler and grey water recycling facilities.
The project has been a joint venture by North Lincolnshire Council, Sport England and development groups Yorkshire Forward and the Scunthorpe Town Team.
Councillor John Briggs, deputy leader of North Lincolnshire Council, said: "We made a commitment to provide an iconic, contemporary sport and leisure complex for the people of North Lincolnshire.
"The building is impressive. It is built to a very high standard and it really stands out, but without being too imposing.
"It will truly be worth a visit. It's a magnificent building with brilliant facilities, set in beautiful surroundings."