Yorkshire woman calls for change on baby abandonment law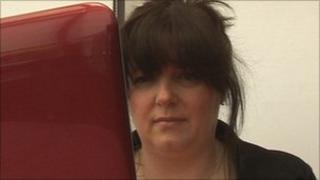 A woman who was abandoned at birth is campaigning to drop the law that allows the prosecution of mothers.
Alley Lofthouse, from Wawne in East Yorkshire, was abandoned when she was just a few hours old.
She is now campaigning for a change in the law which can lead to parents who abandon babies facing prosecution and up to five years imprisonment.
Ms Lofthouse has set up a website to provide information for foundling children and their parents.
She said she was inspired by her own experiences of being adopted as an abandoned baby.
She said: "Every time I speak to one of the family and I find out new information that I can go for, that I can look for.
"So, I thought if we set up this website at least it is a point for foundlings to go to. It's a point maybe even for natural parents to go."
'Baby hatches'
Under a law dating from 1861 people who abandon a child under the age of two can face up to five years in prison. In reality the Crown Prosecution Service seldom brings court actions.
However, Ms Lofthouse said that not having a legal way to abandon an unwanted child can lead to tragedy, citing the case of a Lincolnshire baby that died in 2009 after being left at a Skegness recycling centre.
She hopes to change the law and introduce "baby hatches", found in much of Europe and Asia, which allow mothers to deposit their child anonymously and safely at a hospital.
She claims the change would allow mothers to access health care without any consequences.
"They can go on then to get the help they need. They can then possibly go on to get medical help without fear of prosecution, without fear of being known." she said.
Claudine Clucas, a psychologist at University College London, has researched the issue and believes English attitudes on child abandonment differ from many other countries.
"It is true that over here there is much more anger and blame towards mothers who abandon their babies," she said.
"The reaction in other countries is perhaps more accommodating of the abandonment."
She said that changing the law could be beneficial, as many children are abandoned away from the safety of a hospital.
However, there was little research on whether the use of baby hatches has a beneficial effect on the health of mothers and babies, she added.
"It is difficult to tell whether having procedures in place and laws to make sure there is no harm to the mother would result in better outcomes," said Ms Clucas.
"It is quite controversial at this stage."