East Yorkshire farmer plans British flower fightback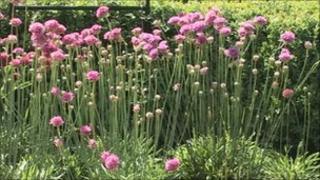 An East Yorkshire farmer is growing traditional British flowers to compete with imports.
Gill Hodgson is growing about 40 varieties of native blooms alongside her barley and wheat crops at the family farm near Pocklington, East Yorkshire.
The UK spends £2.2bn on cut flowers every year, but less than 15% are grown in Britain.
The vast majority are imported from the Netherlands, Kenya and Colombia.
Ms Hodgson has started a business co-operative, Flowers from the Farm, to encourage other farmers to start growing traditional British blooms, such as violets, sweet peas and asters.
According to the firm's website, 20 years ago more than half of all cut flowers sold in Britain were grown here.
She aims to recruit 600 growers to produce the amount of flowers needed to supply florists on a commercial scale.
She said that one of the biggest battles was changing farmers perceptions about growing flowers.
'Just another crop'
"Farmers would normally run a mile if they think about gardening," she said.
"This is not gardening, this is commercial flora-culture."
"We are only looking at half an acre. You can grow an incredible amount of flowers on half an acre."
The UK market for cut flowers has grown rapidly over the past few years.
According to the industry's trade body, the Flowers and Plants Association, the average Briton spends £36 a year on flowers and plants for the home; up from £8 per person in 1984.
Gill Hodgson has been joined in the new enterprise by her daughter, Peggy.
Peggy Hodgson said she hoped that farmers will take a practical view about the commercial potential of growing flowers.
She said: "Farmers are very, very familiar with combinable crops, with pigs with cows and everything. It's just another crop.
"Flowers hasn't been seen in the past as a crop, but it easily can be."