Patchwork poem at Bridlington poetry festival launch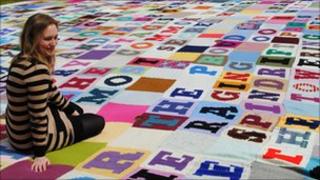 A giant knitted patchwork poem has been unveiled at the launch of Bridlington's annual poetry festival.
The 13x9 metre (43x30ft), hand-knitted version of Dylan Thomas's In My Craft or Sullen Art was displayed at the town's Sewerby Hall.
It marked the start of a weekend of events including a number of writing workshops and readings.
Among the poets taking part over the weekend are Sean O'Brien, Ian McMillan and the Poet Laureate Carol Ann Duffy.
'Ancient art'
The knitted poem has been borrowed from the The Poetry Society, which commissioned it as part of their centenary celebrations in 2009.
It took more than 1,000 knitters and crocheters to complete the work, which is usually on display in the British Library in London.
This is the festival's second year and organisers are hoping that it will complement the East Riding's other literary festival held in Beverley.
Poet Laureate Carol Ann Duffy will be performing one of her children's poems set to music, as well as reading some of her latest works.
As well as the performances, the festival has funded a poet in residence to work in local schools to encourage students to write poetry. Some of the students will perform their work over the weekend.
John Wedgwood Clarke, director of the festival, said that the event aimed to cater for all tastes.
He said: "If you love poetry you're in for a treat and if you're uncertain about poetry join us to find out just how much you can love this most ancient and accessible of art forms."